Suggested student Reading List
Kindergarten to Year 2 series books
Dr Seuss books  by Dr Seuss
Kids still love these crazily creative stories that encourage wordplay and rhyme.
Mr McGee books by  Pamela Allen
The Lighthouse Keeper series  by Ronda and David Armitage
The Very Cranky Bear collection by Nick Bland
Grug series by Ted Prior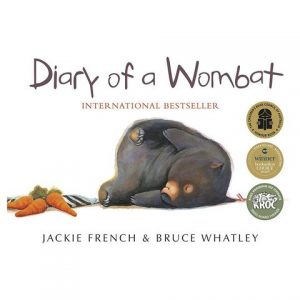 Diary of a Wombat series by Jackie French
Mr Men and Little Miss books by Roger Hargreaves
Years 3 – 4 series books

Dinosaur Cove by Rex Stone
Popular with boys and girls. These fast-paced adventure stories are well researched and full of interesting facts about dinosaurs. Kids will also enjoy the website which has games, quizzes and printables.
Billie B Brown by Sally Rippin
This series features Billie, a feisty tom boy and her best friend Jack. Author Sally Rippin said she wanted to create a series that was perfect for little girls tired of princesses and fairies.
Alice-Miranda by Jacqueline Harvey
Alice-Miranda Highton-Smith-Kennington-Jones attends boarding school at Winchesterfield-Downsfordvale Academy for Proper Young Ladies. A truly positive heroine, she is funny, kind, optimistic and able to solve just about any problem.

EJ12 Girl Hero by Susannah McFarlane
An adventure series for young girls has a fresh new look and has sold nearly a million copies, making it one of Australia's most popular children's series. Now it's the girls' turn to save the world!
Madeline by Ludwig Bemelmans
First published in 1939, Madeline and all five in the series are now classics. Madeline is a gutsy little girl, and that's what makes her such a unique role model in a time when storybook princesses defined femininity for girls.
Gibblewort the Goblin Victor Kelleher
Gibblewort is a nasty Irish goblin who mails himself to Australia and has many adventures playing horrible tricks on his friends and snacking on mothballs. Trouble follows him everywhere.
Hey Jack by Sally Rippin
Horrid Henry  byFrancesca Simon
Boy vs Beast by Mac Park
TooCool by Phil Kettle
Zac Power by H.I. Larry
Jack Russell Dog Detective by Darrel & Sally Odgers & Janine Dawson
Tashi by Anna and Barbara Fienberg and Kim Gamble
D-bot Squad by Mac Park and James Hunt
Kaboom Kid by David Warner
Tiny Timmy by Tim Cahill
Captain Underpants and Dog Man by Dav Pilkey
EJ Spy School by Susannah McFarlane
Big Bash League series by Michael Panckridge
Years 5- 6 series books
The Fairy Realm by Emily Rodda
Jessie is amazed when she discovers in her grandmother's garden a secret door leading to a magical world of fairies, water sprites, gnomes, unicorns and other fantastic beings.
The Treehouse Books by Andy Griffith & Terry Denton
Andy and Terry live in a treehouse with a bowling alley, a see-through swimming pool, a tank full of sharks, a library full of comics and more.
WeirDo series by Anh Do
Middle Schools series by James Patterson
Mission Survival by Bear Grylls
A gripping story about teen Beck Granger who battles ravenous crocodiles and cunning villains as he searches for clues of his parents' death.Fiction packed with real survival details and dangers at every turn.
Max Remy Super Spy by Deborah Abela
Sisters Grimm by Michael Buckley and Peter Ferguson
Chronicles of Narnia by C.S. Lewis
Percy Jackson by Rick Riordan
Diva Series by Sue Lawson
Kingdom of Silk by Glenda Millard and Stephen Michael King
Emily Eyefinger by Duncan Ball
Horse Mad by Kathy Helidoniotis
Diary of a Wimpy Kid by Jeff Kinney
Harry Potter (Books 1 – 3) J.K. Rowling
Holes by Louis Sacher
Indian in the Cupboard by Lynne Reid Banks
Selby by Duncan Ball
Series of Unfortunate Events by Lemony Snicket
Spiderwick Chronicles by Holly Black and Tony Di Terlizzi
Specky Magee by Felice Arena